Ensuring Cruise Ship Safety in the Northwest Passage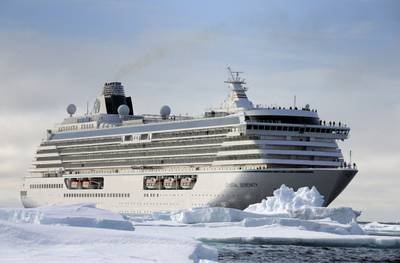 The luxury cruise ship Crystal Serenity is set to become the largest vessel to ever sail across the Northwest Passage as the 250-meter-long vessel carries a record-breaking 1,070 passengers and 655 crew members on a 32-day voyage from Anchorage, Alaska to New York
Providing critical support to ensure the safety of this historic journey is Ardent's Global Preparedness Cover (GPC), whose staff are on 24-hour response throughout the cruise ship's transit through the Northwest Passage.
"Ardent has been on the forefront of provide emergency preparedness services to its marine industry for many years, and this goes hand in hand in being prepared to respond in all regions in the world including the Arctic," said Oliver Timofei, Ardent's Director Emergency Management.
Ardent said its response capabilities for the Crystal Serenity consist of experienced professionals and teams supported by a network of tugs, barges, logistics and emergency response, as well as dive capabilities.
"Ardent is continuously developing its response capability in the Arctic region, through Ardent Group assets, and key strategic partners," said Ardent Operations Director Shelby Harris.
Ardent is not new to working with cruise liner companies. Its GPC and OPA-90 programs provide access to salvage and emergency capabilities for cruise liner operators worldwide.
The company recently responded to one of its OPA-90 preparedness program vessels, the Caribbean Fantasy, when it caught on fire in San Juan,
Puerto Rico
.
In 2012-2014, Ardent salvage crews were responsible for the largest maritime salvage job in history: The Costa Concordia, a cruise liner that struck the rock coast of Isola del Giglio,
Italy
.