Northwind Marine Boats in S/E Asia Offshore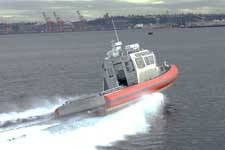 A pair of Northwind Marine's rough-water diesel-powered A/RIB vessels are operating in the tumultuous seas off the and , servicing floating oil production vessels as far as 60 miles from any beach. They are naval architect designed 36-foot Tow Master Vessel Support Boats—aluminum/rigid-hull, inflatable work boats featuring air-foam collars.
Singapore-based Rubicon Offshore International, Ltd took delivery of the two 36-foot, diesel-powered A/RIBS this summer and put them into use in Southeast Asian oil fields. The boats feature increased buoyancy to operate in rough seas offshore.
Rubicon is an oilfield service company whose core activity is the development and production of small oil fields in the Austral-Asia region. The company is headquartered in .
The Northwind-supplied boats are powered by twin Yanmar 6LY3-STP 440 horsepower intermittant duty diesel engines. The engines are hooked to 292 water jets through ZF280-PL marine transmissions with a 1.214 to 1 ratio. The Yanmar electronic control package includes multi-function LCD display, binnacle controls, and the CAN-BUS-NMEA 2000 electronic control system. The inflatable hybrid foam collar gives the boats a beam of 12'1". The hull has a deadrise of 20 degrees and a draft of 1'10". A fuel cell holds 250 gal. Displacement is 16,000 lbs.
(www.northwindmarine.com)