Ship Tunnel Plans for Norway's Stormy West Cape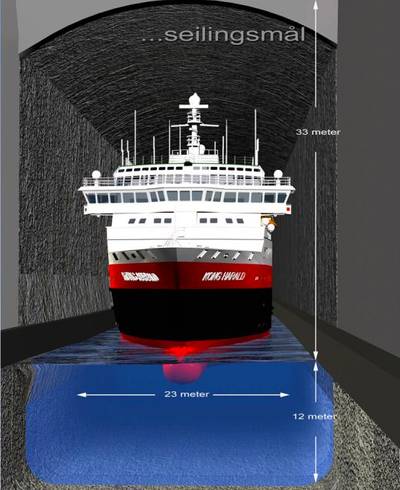 Plans for a huge tunnel for ships if given approval would be the first such tunnel in the world and could become a major tourist attraction.
If approved, reports newspaper Aftenposten, the tunnel will be built at Stad in the county of Sogn and Fjordane on Norway's west coast. The stretch of sea along this northern part of the west coast, and around the West Cape, is notoriously treacherous for ships. The idea of building a tunnel here has been in the development stages since the 1980s.
The seas around the Stad peninsula have historically been plagued by strong winds and shipwrecks, and are one of the main obstacles preventing a fast-ferry passenger route between Bergen and Ålesund. A tunnel built at the narrowest point connecting the Stad/West Cape peninsula to the mainland would allow ships to pass through safely, and to run on time. Its supporters say the tunnel could become a tourist attraction in its own right, and give a boost to local industry and business.
Source: Aftenposten

The proposed tunnel would even be big enough for Hurtigruten, the coastal passenger and cargo shipping line that runs along the Norwegian coast, to pass through. The projected route for the tunnel would be at the narrowest and innermost point of the peninsula, between Moldefjorden and Kjødepollen in Selje municipality. Its cost is estimated to be NOK 1.7 billion.