Norwegian Dawn Arrives In Boston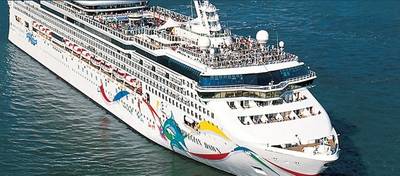 The Norwegian Dawn, the cruise liner that ran aground as she left Bermuda this week, has arrived in Boston.
A story in the Boston Herald says, "Passengers on a cruise ship that ran aground on a reef near
Bermuda during
a seven-day vacation shrugged their shoulders and said the mishap was no big deal as they disembarked Friday.
"The Norwegian Dawn, carrying nearly 3 500 passengers and crew, returned to the Black
Falcon Terminal
in Boston. Everyone had a story to tell — and a discount on their next cruise."
The cruise ship ploughed into the reef bordering the North Channel when she temporarily lost power on Wednesday evening.
The ship was pulled off the rocks in the evening after a major refloating operation and later assessed by experts before leaving Bermuda at 2.30pm on Thursday.
The liner and her 3,500 passengers and crew arrived in Boston yesterday to be greeted by representatives from several US
media outlets
. The cruise ship is expected to return to Bermuda at the weekend and is scheduled to come alongside at Dockyard at 11am on Sunday.
Norwegian Cruise Line says a temporary malfunction in the steering system forced the ship off course near Bermuda, where it had spent three days in port. The company says a team of experts inspected the ship and found it to be safe.