Meyer Werft Set to Launch 'Norwegian Breakaway'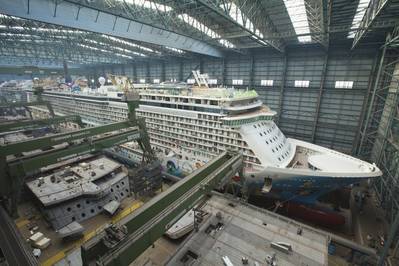 After just 17 months under construction Meyer Werft plans to float out the new cruise ship Tuesday, weather permitting.
The 145,000 gt cruise ship Norwegian Breakaway, has already been undergoing extensive tests and machinery trials. Following the float-out from Covered Building Dock ll, more tests to be carried out in the harbour, when the ship will be berthed alongside the yard's outfitting pier.
Within a couple of days, the first crew members will move into their cabins on board, and familiarize themselves with the ship itself and its numerous systems. The Norwegian Breakaway''s departure down the river Ems towards the North Sea, for sea trials is scheduled for early March 2013.

The 145,000 gt cruise ship has a length overall of 324 m, and is 39.70 n wide. Its construction complies with the latest safety standards, and the ship meets all valid environmental regulations.