New Arctic Spyship Hull Arrives at Norwegian Shipyard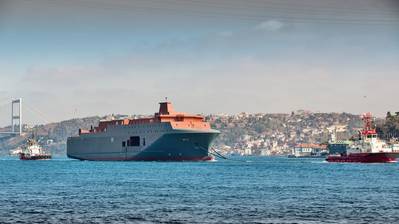 The first photo of what is to be the most important military intelligence vessel for NATO in the Barents and Arctic Seas is to be seen on the right. "This is an important project to ensure Norway's interests in the North. Control with the development there is strategically important for Norway," says Head of the Norwegian Military Intelligence Lieutenant General Kjell Grandhagen.

The hull was completed in a Romanian shipyard then towed to Norway's Vard Lansten Shipyard where it will be equipped with an array of high-tech sensors and other equipment which will enable it to carry out surveillance in Arctic waters.

According to the Norwegian Intelligence Service the ship will enter service in 2016. Like the three former Norwegian military intelligence vessels sailing the Barents Sea over the last 60 years, the new vessel will also be named Marjata.
The present Marjata has been sailing since 1995 and will be retired when the new vessel enters service in two years' time.The new spy ship is substantially larger than the former: 126 meter long with a 23,5 meter beam giving it a far larger area of operation.

A video of the new intelligence-gathering vessel is at: https://www.dropbox.com/sh/9spf3x6leg7stre/2mGN9Y4C-o