OceanGrafix to Print NOAA's New POD Coast Pilots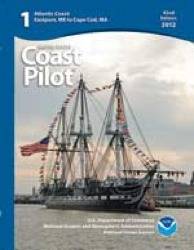 OceanGrafix, now approved as Print-on-Demand (POD) printer/distrubutor for NOAA's US Coast Pilot Series.
In conjunction with NOAA's new process of making weekly online updates to the U.S. Coast Pilot books, OceanGrafix will print the books that reflect all updates and corrections.
"NOAA is making fundamental improvements in our publishing processes so our commercial partners, like OceanGrafix, can make the U.S. Coast Pilot available to mariners as quickly as possible," says Kathryn Ries, NOAA Coast Survey's acting director.

Traditionally, users would order printed updates to insert into their book, or wait for the next edition to be printed and released. The series consists of nine volumes covering different waterways of the U.S. and U.S. territories. Each contains navigational information to supplement nautical charts.

"We are pleased to continue our work with NOAA, taking their updates and combining them with our POD capabilities to deliver the most up-to-date nautical information to boating navigators," says OceanGrafix President Ron Walz. "Purchasing a current U.S. Coast Pilot book is a cost-effective and reliable means to help ensure boating safety."

St. Paul, Minnesota–based OceanGrafix is the first and only company to offer NOAA print-on-demand nautical charts for recreational and commercial boaters. Working in partnership with NOAA, the company ensures distribution of the most accurate, up-to-date NOAA paper charts.