New Oceanographic Data in Major Ship-Routing Trial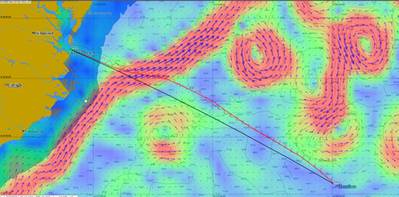 New data that enables ships and superyachts to improve their routing efficiency is being trialled with a major cruise line company.
The data, provided by oceanographic data specialist Tidetech, will allow captains and deck officers to route their vessels more efficiently, saving time, fuel and money while reducing environmental impact.The scientific data can be integrated with onboard navigation systems and provides an accurate feed of global ocean currents, sea surface temperatures and wave forecasts.Tidetech's managing director Penny Haire said the data could potentially save shipping companies and superyacht owners thousands of dollars in fuel. "Ocean currents and trade winds have been relied upon for hundreds of years in trade shipping," Ms Haire said.
"Previously data was based on estimates and historical information, providing an average ocean current estimate for a given month. Our oceanographic scientists evaluate data from multiple sources including satellites, government agencies and observation (among many others) to establish the exact location of constantly moving currents. The combination of applied oceanography and meteorology can result in large bunker cost savings and in turn will help ships meet their environmental obligations," she added.
Tidetech's scientific team is made up of the world foremost oceanographic experts with over 60 years combined experience at the UK's Proudman Oceanographic Laboratory (now National Oceanography Centre). The team also includes navigators and specialists in sensor networks and data management. "The combination of scientists and data developers means we can choose the best information available and adapt it to fit into onboard systems," Ms Haire said. "We're currently running a live trial aboard several cruise liners and should have definitive results by the end of the year."