NOAA Publish IOOS Oceanography Data Manual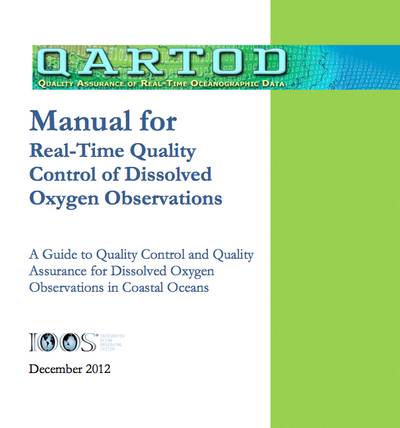 The NOAA-led US Integrated Ocean Observing System (IOOS®) reaches a milestone with publication of its first manual.
A Guide to Quality Control and Quality Assurance for Dissolved Oxygen Observations in Coastal Oceans is the first in a series of IOOS manuals designed to improve standardized collection of ocean data which should enhance accuracy of tools, models, and forecasts that affect decisions concerning public safety, our economy, and the marine environment. The manual focuses on best practices for quality assurance and control tests of dissolved oxygen measurements taken by commonly used sensors in all coastal regions including the Great Lakes.

Dissolved oxygen is one of the most critical measures of ecosystem health and one that often influences public decision makers. Declining dissolved oxygen levels lead to hypoxic areas, or dead zones, harmful algal blooms, which scientists have identified as increasing threats to living marine resources. Having standard data collection principles should allow better comparison of findings in different regions around the country whether it is the Gulf of Mexico, Chesapeake Bay, or the Pacific Northwest.

The next manuals, expected out this spring, will feature best practices for wave and current data – other IOOS measurements that are increasingly important as the impacts of climate change gain more attention as more severe storms occur.

Developed with observing experts and sensor vendors, the standards represent a major step forward for IOOS to make quality ocean observation data standard and available across all platforms. The manual provides a checklist that each IOOS region, as well as others who operate data collection centers, can use to begin quality assurance and control procedures while still addressing specific regional needs.

The first manual is available on a central repository where all manuals will be posted for system wide use.