October Imports up 9% at Port of Oakland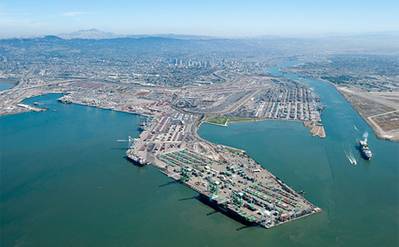 Containerized imports shipped through the Port of Oakland were up 9.17% in October from a year ago, the port said, citing the surge as the biggest jump in import cargo volume in six months.
According to statistics released today, vessels discharged the equivalent of 73,124 20-foot import containers in Oakland during October. That was up from 66,983 containers handled in the same period last year. Port executives attributed the growth to two factors: A strategic drive to increase import volumes at the Port of Oakland; and congestion at
Southern California ports
leading shippers to reroute cargo through Oakland.
"We're attracting additional import volume by taking advantage of our available capacity," said
Port of Oakland Maritime
Director John Driscoll
. "Customers need a way around congestion and they are beginning to see Oakland as a solution."
Port officials said cargo diversions from Southern California are adding hundreds of additional import containers weekly to Oakland volumes. Last week the first vessel diverted from Southern California to bypass congestion arrived in Oakland.
The port has undertaken a series of measures in recent years to attract more import volume. They include increased water depth for larger vessels, bigger cargo-handling cranes and outreach to importers and shipping lines.
The port said total cargo volume, including imports and exports, was up 3.84% in October from a year ago, while year-to-date volume has increased 1.81%.