T.S. Kennedy Officers, Crew Honored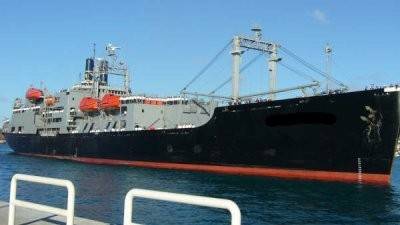 The officers and crew of the Massachusetts Maritime Academy's training ship, the T.S. Kennedy, have been awarded the Admiral of the Ocean Seas Mariners Plaque for their service during the Hurricane Sandy relief effort.

The ship, which housed relief workers in the aftermath of the storm, was nominated by American Overseas Marine, the shipping company contracted by the federal government to take the Kennedy to Staten Island, N.Y.

Capt.Tom Bushy, master of the training ship and the Buzzards Bay academy's vice president of marine operations, will accept the plaque on behalf of the crew Friday at the Admiral of the Ocean Seas banquet in NewYork City. Adm. Richard Gurnon, the academy's president, and Holly Knight, vice president for advancement, will attend the banquet as guests of American Overseas Marine and the company's president, Thomas Merrell.

"The entire MMA family is very proud of the work of the officers, staff and crew of Kennedy during the devastation wrought by Superstorm Sandy," Gurnon said.

"The Kennedy was shelter after the storm to hundreds of first responders and FEMA workers who used it as a central base of operations as they assisted the residents of Staten Island in the recovery efforts," he said.