Offshore Marine Academy Sets Sail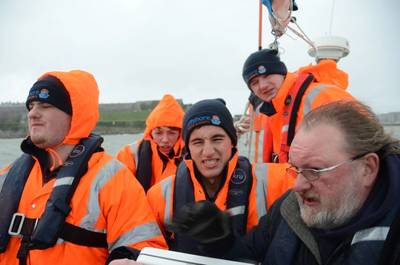 Offshore wind trainees test their sea legs at Plymouth University.
Six offshore wind trainees got their first hands-on experience of seamanship and navigation skills onboard the 33 foot yacht "Fairtide" earlier this month as a culmination of a four-day course at Plymouth University's School of Marine Science and Engineering.

The trainees, all undertaking a 12-month offshore training programme with Offshore Marine Academy, took part in classroom sessions on key marine skills such as charting and using navigational aids, rope work, preparing fixings and weather preparedness as part of the training. Their tutor was Andrew Eccleston, who teaches on the University's marine studies undergraduate programmes aimed at those who want to become professional seafarers.

The trainees' skills were put to the test on the MCA Category 2 coded vessel "Fairtide" as they planned a round trip from Plymouth to the Saltash Bridge, navigated the route and crewed the vessel. They also utilised a Transas ship simulator, which provided different locations and weather conditions to overcome during navigation exercises. One of the participants, 24-year-old Scott Pitman formerly worked in the plumbing trade but has always wanted to work at sea so found the course "a fantastic experience".

"It was exactly the mix of theoretical and practical training I had hoped for when I started with the Academy," he said. Another trainee, 20-year-old Ralph Williams said putting the newly learnt skills to the test via both the simulator and in real life on the yacht was particularly rewarding. Academy Director David Martin said that as demand for experienced workers in the offshore wind industry is increasing, courses like this seamanship and navigational skills one will prove invaluable for young people trying to enter the industry.

"This demand has prompted us to expand into offering commercial training courses as well as our trainee programme," David Martin said. "Later this year we will launch an Introduction to Subsea Survey, also in conjunction with Plymouth University to capitalise on its excellent resources and facilities." Offshore Marine Academy will continue to look at other opportunities with the University including the potential for additional trainee programmes and commercial courses.