Arctech Starts Arctic Offshore Vessel Assembly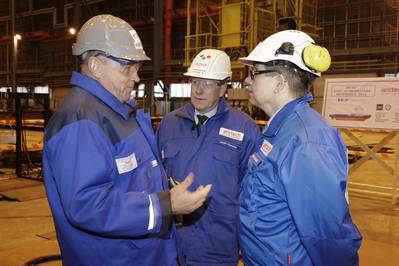 The hull assembly of arctic offshore vessel NB 507 was started at the Keel Laying Ceremony at Helsinki Shipyard 3 July 2012.
The ship is the sister vessel of NB 506 that was launched on Saturday 30 June. The offshore vessels are being built for Russian Shipping Company Sovcomflot and they will be delivered in spring 2013.
The Keel laying at Helsinki Shipyard followed old traditions. The first block of 260 tonnes, that was set on the keel, has been manufactured and outfitted in Helsinki. The block comprises pump room and bottom and side tanks. The blocks of the ship have been built together with Vyborg Shipyard. 20 of the blocks have been built in Vyborg and one in Helsinki.
Arctech has been responsible of the design and procurement of both vessels as well as of the main parts of the building: block outfitting, paintings, hull assembly, outfitting and commissioning. NB 506 will be ready for delivery in December 2012 and NB 507 in April 2013. After the delivery the vessels will go to Far East Russia, where they will serve the Arkutun-Dagi oil and gas field. The main purpose for these vessels is to supply the gas production platform and to protect it from the ice.