World's First Offshore Barge with Built-in BWTS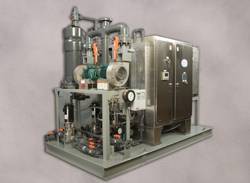 The BALPURE ballast water treatment system, which received Type Approval in July 2011, has been selected for use on two flattop oceangoing heavy deck cargo barges. The Type-Approved BALPURE ballast water treatment system from Severn Trent De Nora has been selected for use on two oceangoing heavy deck cargo barges being constructed for Norwegian-based Greenway Shipping by Dalian Shipyard, at its shipyard in Dalian,
China
. The 9,025 dwt oceangoing barges will reportedly be the first new offshore barges to install the BALPURE system. The Greenway barges are the first offshore barges to have built-in ballast water treatment systems. The BALPURE system was selected from a list of competing vendors due to its robust and proven electrolytic disinfection technology perfected by Severn Trent De Nora over 35 years in the marine and offshore industries. BALPURE was also chosen for its treatment approach, low power consumption and low maintenance requirements.
Trym Gade Lintoft, marketing director – partner of Greenway Shipping, said, "Greenway Shipping chose the BALPURE system because of its technical features and Severn Trent De Nora's long history of water treatment in the marine industry. Despite the fact many new ballast water treatment systems have been recently introduced, we wanted to work with an established organization that provided a first class, fully operational system resistant to the harsh marine environment. Our offshore barges are the first in their class to be equipped with ballast water treatment systems, and we strongly
believe Severn Trent
De Nora will support us throughout the barges' expected lifespan of thirty years."
"The BALPURE system is gaining headway globally among vessels requiring a robust and reliable solution," said Jim McGillivray, BALPURE general manager for Severn Trent De Nora. "This contract with
Greenway Shipping represents
our first order in Norway, and we see great potential for the BALPURE system with the country's marine industry. Our regional sales manager in the territory, Mr. Ulf Hallberg, will be further developing and promoting BALPURE across the Nordic region."
Two BALPURE systems to be supplied in sub-assemblies, one set for each of the barges, will be provided to Greenway Shipping. Each BALPURE system is capable of treating ballast water flow rates of up to 600 m3/h. The BALPURE systems will be delivered and installed in March 2012.