Delta "T" Hooks for Offshore Customer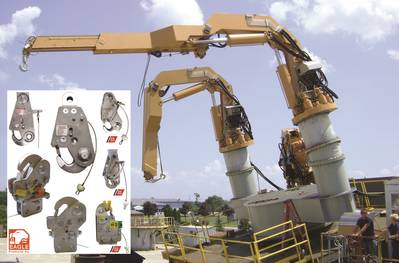 Gaining further ground into the offshore crane market, Delta "T" Systems supplied Cranston Eagle hooks to crane manufacturer Appleton Marine, Inc.
These cranes and hooks will be used on medium endurance cutters and national security cutters to move small boats into the water from bigger ships and to load cargo.

With these cutters used by the US Coast Guard, Appleton Marine needed hooks that met the USCG's specific requirements. That's why the crane manufacturer's FB20-21 and FB90-28 crane models employ Cranston Eagle hooks. The hook models supplied include the 3.5 ton rated APR-356-CBH and the 4.5 ton rated 20-APR-456-CBH.

Appleton's folding boom cranes minimize deck space and stowage requirements while offering exceptional outreach. Every crane is pushed to the limits of its design specifications to comply with customers' most rigid testing standards.

Since 1971, Appleton Marine has designed and manufactured marine offshore and shipboard products, providing problem solutions for commercial marine, offshore oil and government industries. Products include a wide variety of cranes, winches, windlasses, capstans, hose reels, fairleads, Navy UNREP equipment and special systems.