SAL Heavy Lift's MV Frauke Wraps Up Offshore Gig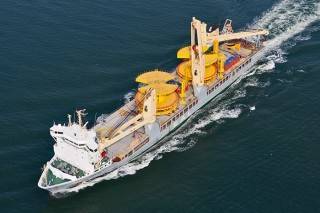 The specialist vessel MV Frauke operated by SAL Heavy Lift has just completed a major long term offshore industry project, the company announced.

The Type 176 vessel MV Frauke finalized the project, which it began in July 2014, in December 2014.
The complex project consisted of seven phases:
Mobilization and special preparation of the vessel in Germany and the Netherlands;
Loading and transport of two empty carousels from the Netherlands to USA, both 12 m high with a diameter of 26 m, 620 t;
Spooling of more than 2000 t of umbilicals in the USA;
Transport of the fully spooled carousels to the project site offshore West Africa;
On-Site support for the installation vessel S3000 offshore West Africa over a two-month period including assistance for discharging of full carousels and the reloading of empty carousels at double banking;
Transport of the empty carousels back to the Netherlands, discharging;
Demobilization of the vessel in Germany in December.

A significant challenge within this project was the absolute precision required on the weight spreading calculation on the hatch covers. The stability of the hatch covers was ensured with tailor-made steel supports, which were installed beneath the hatch covers, SAL Heavy Lift said.

The company added that a special grillage was designed to spread the weight of the heavier carousel.

"These extensive measures guaranteed a permanence in safe handling and transport of the cargo for the entire project duration," SAL Heavy Lift said.

Toshi Yamazaki, COO at SAL Heavy Lift GmbH, Germany, added:" The successful completion of this demanding project on time and to our customer's satisfaction shows our vessels and our team have the ability to deliver in the most technically demanding circumstances."