Statoil Invests $1.5b in US Offshore Project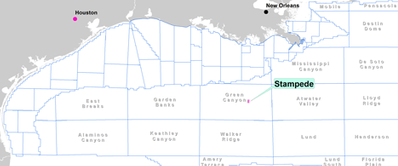 Statoil together with co-owners in the Stampede development in the Gulf of Mexicohas sanctioned the Stampede project in the U.S. Gulf of Mexico. Statoil said it will invest $1.5 billion in the Stampede development, which is expected to begin production in 2018. Statoil owns 25% of Stampede, which is operated by Hess.

Stampede, a new project named from unitizing the former discoveries of Knotty Head and Pony, is located approximately 350 kilometers (215 miles) from New Orleans, Louisiana at a water depth of more than 1,000 meters (3,500 feet). The reservoir depth is 9,100 meters (30,000 feet). Stampede consists of Green Canyon Blocks 468, 511 and 512.

Statoil estimates the reservoir contains approximately 350 million barrels of recoverable oil. Stampede's development plan calls for six subsea production wells and four water injection wells from two subsea drill centers tied back to a tension leg platform. Gross topsides processing capacity for the project is approximately 80,000 barrels of oil per day and 100,000 barrels of water injection capacity per day.

"We're very pleased to see Stampede move forward toward production in 2018. This field has a long production life capable of generating a consistent high volume of valuable barrels," says Jason Nye, senior vice president of Statoil's U.S. offshore business.

Statoil's U.S. offshore business currently includes production from Caesar Tonga and Tahiti in the Gulf of Mexico. It also has a very attractive development portfolio with ownership in many of the largest fields in the area to start production over the next few years: Jack & St. Malo (25% and 21.5% ownership, respectively), Big Foot (27% ownership); Heidelberg (12%ownership), Julia (50% ownership) and Vito (30% ownership).

Statoil's co-owners in Stampede include Union Oil Company of California, a subsidiary of Chevron (25%), Hess (25%) and Nexen (25%). The total Stampede development is expected to cost USD 6 billion.