Offshore Carrier Design 7400 Launched by Damen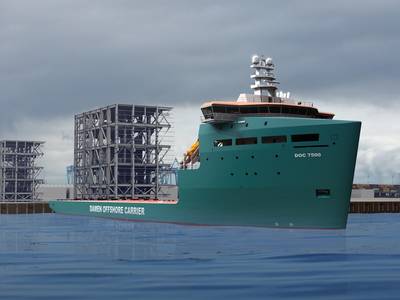 Damen Offshore Carrier (DOC) 7500 design introduced: a smaller heavy transport, offshore installation & ro-ro platform.

Damen developed the new vessel in cooperation with Singapore based heavy lift transport specialist Hans van Mameren, managing director of Ha-Ce Engineering Pte Ltd..

The DOC has an endurance of 65 days, a large, flat and unobstructed deck of 2,300 m², a deck strength of 20 t/m² and is highly fuel-efficient.

The designers say that the Damen Offshore Carrier is able to handle higher sea states, whilst maintaining course and speed and, by that, being more economical and reliable, he stresses. As well as economical fuel consumption, the vessel can run on HFO380, making it even more cost efficient.

Remko Bouma, Sales Manager of Damen Shipyards Bergum, says: "When we decided to realise a new design together, we wanted to create a vessel that was able to carry modules and cargo on an open deck over medium and long distances, complying the demands of today's market. I think this vessel will be 'the' alternative for the more time consuming tug and barge transportations."

A multifunctional ability was a key part of the DOC design. Damen was keen that it should find deployment in several markets, hence its suitability for shore-to-(off)shore transport, ro-ro operations and installation work.

The large unobstructed deck is free of any manholes, exhaust and de-aeration pipes. Ro-ro operations are unobstructed and modules can be stowed and secured everywhere on deck. An efficient ballast system and the ability to handle ro-ro over the stern and sides are other important advantages.

Currently the DOC is 27.5 m wide. Already Damen is considering a larger version of 32.5 m wide. The vessel has a Green Passport and a Zero Dumping certification and the fuel tanks are protected with cofferdams. The first DOC 7500 can be delivered in 2014.

Damen Shipyards Group (est. 1927) operates more than 45 shipyards, repair yards and related companies worldwide.