Thai Offshore Patrol Boat Launched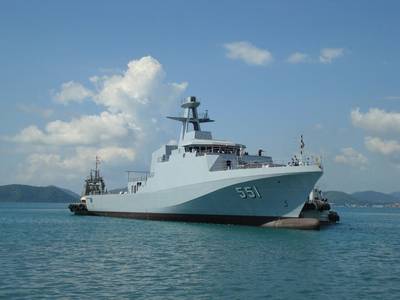 A BAE Systems designed Offshore Patrol Vessel being built by the Royal Thai Navy has been launched at a ceremony at the Mahidol Adulyadej Naval Dockyard.


The launch of HTMS Krabi on Friday (2 December) was conducted by HRH Princess Maha Chakri Sirindhorn and comes just 15 months after the vessel's keel laying ceremony in August 2010.


Under a technology transfer agreement, signed in June 2009, BAE Systems supplied the design of its 90 metre Offshore Patrol Vessel, which its industrial partner Bangkok Dock has adapted to meet the specific requirements of the Royal Thai Navy. This has included the addition of a 76mm gun, changes to accommodation areas and the installation of indigenous fittings and fixtures. Helping to support the growth of a sustainable shipbuilding capability in Thailand and self sufficiency in naval construction, engineers from BAE Systems have worked alongside Bangkok Dock throughout the construction of the vessel to transfer design knowledge, technology and skills.


Mick Ord, Managing Director of BAE Systems' Surface Ships business, said: "This is a highly capable and versatile ship which provides an effective and affordable solution to naval capability requirements. The vessel's launch is a pivotal moment in the programme and effectively demonstrates the success of the innovative partnership we have developed with Bangkok Dock."


Outfitting will continue on the vessel when she returns to dry dock in early December. With a maximum speed of 23 knots and a flight deck large enough to accommodate a Super Lynx helicopter, the Offshore Patrol Vessel will be primarily used by the Royal Thai Navy for Economic Exclusion Zone roles, including routine patrols and border controls. It will also undertake fishery protection tasks and disaster relief, as well as protection of natural resources in the Gulf of Thailand and the Andaman Sea.


The BAE Systems designed 90 metre Offshore Patrol Vessel being built by the Royal Thai Navy is based on the design of the smaller (80 metre) River Class vessels used by the UK Royal Navy. The ship's adaptable design is well suited to the export market as it can be altered to individual customer needs and requirements, meeting the operational requirement of navies around the world.