DP Offshore Safety Vessel Launched at Zamakona Yard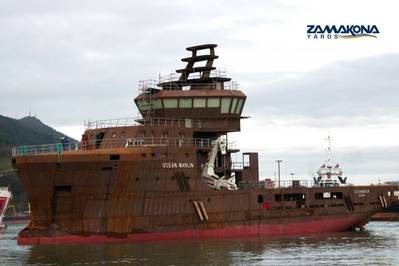 Zamakona Yards say they have successfully launched the 'Ocean Marilin' for owners Atlantic Offshore A.S. at their shipyard in Pasajes in Northern Spain.
The shipbuilder explains that the principal mission of the vessel will be to provide immediate attention in emergency situations to offshore oil rigs and installations. Being especially adapted to the severe climatic conditions of the North Sea, it will commence operations for the Oil Company TOTAL in the second semester of 2014.
'Ocean Marilin' is a Field Support Vessel (FSV) of Havyard HY820 design, with a length of 66.8 meters, a breadth of 16 meters and propulsion by two MAN engines with a capacity of 2500 KW each. The new vessel has the capacity to rescue 300 persons.

At a price of nearly 25 million Euros, Zamakona say that the new vessel incorporates the latest technologies including: dynamic positioning, fire control systems, machinery, towing pins on deck, stern roller, etc.