Vroon Offshore Win Long-term BP ERRV Contract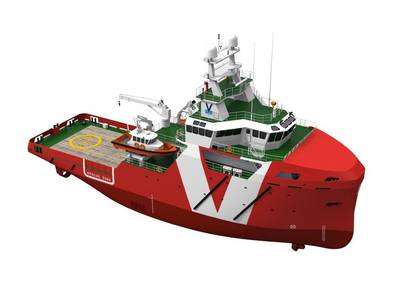 Vroon Offshore Services contracted by BP for emergency response and rescue vessel (ERRV) services on the UK continental shelf.
Netherlands' Vroon say that these services will be undertaken by A- and B-Class field-support vessels and a platform-supply vessel. In due course one of the field-support vessels will be replaced by a newbuilding vessel currently under construction for Vroon in China (see artist's impression).
Mark Hardie, BP's UK Logistics Infrastructure Manager, said, "This award is the latest example of BP executing its long-term marine strategy to support its UK offshore operations. BP has enjoyed a long and successful working relationship with Vroon Offshore Services which has provided us with the confidence to extend the service they provide to our business."
Vroon is a diversified international shipping company headquartered in Breskens on the estuary of the Westerscheldt river in the Netherlands. Today the company operates worldwide and has a fleet of around 160 vessels transporting livestock, dry cargo, containers, automobiles, and clean and dirty oil products, as well as a large fleet of offshore-support vessels.