Navig8 Buys RK Offshore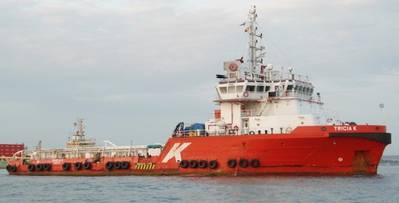 Maritime services provider Navig8 Group has agreed to buy shallow-water contractor RK Offshore Management.
Singapore-headquartered Navig8 Group, the world's largest provider of maritime services, announced that it has entered into agreements to acquire Africa-focused RKOffshore Management (RKOM), a fully-integrated provider of marine services to the offshore energy industry.
Completion of the acquisitions is subject to a number of conditions precedent which are expected to be satisfied on or before 30 April 2016. Under these agreements, RKOM will become a wholly-owned subsidiary of Navig8 Offshore, a newly-formed division of Navig8 Group, and rebranded as "RK8".
RK8 will provide integrated QHSSE-compliant commercial and technical management services to platform supply vessels and anchor handling tug supply vessels serving the offshore oil and gas sector.
"We believe current dynamics within the
energy exploration
and production industry have created a unique opportunity for Navig8 to extend its commercial and technical services to the offshore
energy sector while
at the same time expand our geographical footprint to
West Africa
," said Nicolas Busch, Chief Executive Officer of Navig8 Group.
Nicolas added: "We are pleased to have found strong partners in the RKOM team with an established platform unique within the sector. Leading technical and commercial management is critical in the offshore services industry. Charterers demand exemplary knowledge and local presence as well as an integrated service from their suppliers, which together with RKOM we will provide."
Robert Knutzen, the Executive Director of RKOffshore Management, added, "We are delighted to have found a respected partner in Navig8 Group with deep relationships with a number of the leading participants in the energy sector."
"Existing RKOM clients will immediately benefit from our significant combined commercial scale and global presence, as well as Navig8's industry leading maritime services platform. With Navig8 Group, we seek to be the premier commercial and technical marine services provider to the offshore industry," he said.