KNOT Offshore Partners' Fleet Almost Fully Utilized in Q4 2013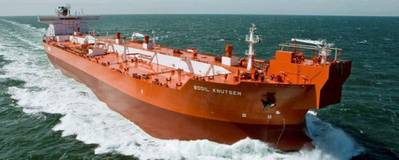 KNOT Offshore Partners reports net income of $7.9 million and operating income of $10.0 million for the fourth quarter of 2013, as compared to net income of $1.5 million and operating income of $5.7 million for the same period in the prior year. They add that all vessels operated well throughout the quarter with 98.5% utilization (3.5 days offhire). Excerpts from the report are as follows:
Operating income increased by $4.3 million and finance expenses decreased by $1.5 million in the fourth quarter of 2013 compared to the fourth quarter of 2012. The increase in operating income is due to the Carmen Knutsen being included in the Partnership's operating results for the full fourth quarter of 2013.

The reduction in finance expense was primarily related to the repayment of debt in connection with the Partnership's initial public offering in April 2013 (the "IPO") and transfer of mark to market costs related to interest rate swaps entered into prior to the IPO to the Partnership's sponsor, Knutsen NYK Offshore Tankers AS ("KNOT").

The Board indicates that it is pleased with the results of operations of the Partnership for the period ended December 31, 2013, which were consistent with expectations for the Partnership's initial operations following the completion of the IPO, and is confident that the Partnership continues to be well positioned to grow its earnings and distributions.

About KNOT Offshore Partners LP
KNOT Offshore Partners owns, operates and acquires shuttle tankers under long-term charters in the offshore oil production regions of the North Sea and Brazil. The company owns and operates a fleet of five offshore shuttle tankers operating under long-term charters to oil majors.
The financial report of the company should be referred to for further more detailed information of complex information.

www.knotoffshorepartners.com