New Offshore Vessel Oslo-Bound for Naming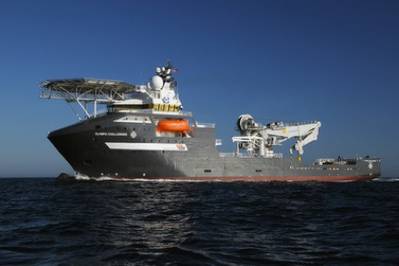 Olympic Shipping's new 'Olympic Taurus' sails for Oslo naming ceremony on delivery by Kleven Verft.

A multi-purpose offshore vessel with diesel electric propulsion, low fuel consumption and high flexibility, 'Olympic Taurus' represent a new generation of environmentally friendly and operational state of the art multipurpose vessels, where much attention is put on fuel economy, low emissions and large capacities both above and below deck.

Class notation Ice B (hull only) makes the new ship available to work in northern areas, and it will be equipped for oil recovery operations (NOFO 2009) and is fitted with a helideck. The MT 6015 design is built in accordance with the new SPS code, and includes facilities that will make the vessel very well suited to ROV and subsea construction work.
Main particulars:
Flag: Norway
Length o.a: 93.80 m
Breadth mid: 20.0 m
Depth main deck: 8.0 m
Max draught: 6.5 m
Gross Tonnage: 4800 t
Net Tonnage: 1900 t
Dead weight: 4800 t