World's First Offshore Fish Farm Rig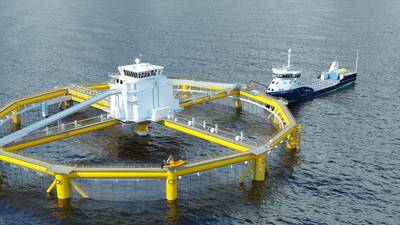 World's First Offshore Fish Farm Rig: Designed by Global Maritime - Owned by SalMar - Built by Qingdao Wuchuan Heavy Industries - Moored by Rolls-Royce
Rolls-Royce signed a contract for the construction and delivery of an eight point mooring system to the world's first offshore fish farm installation being developed for Ocean Farming AS, a subsidiary of the SalMar Group in Norway.
The equipment will be used to secure the installation to the seabed at Frohavet, off the coast of central Norway. The 68 meter high rig will have a diameter of 110 meters and a volume of 250.000 cubic meters.
SalMar decided to move the operation offshore in the plan for additional growth in the industry of harvesting from the sea, as new locations that offer good biological condition for the farming of fish stocks. However moving further offshore also requires new technology.
"This contract win shows how years of experience providing sophisticated mooring and deck machinery solutions in some of the world's most difficult sea conditions can be applied in other areas of the maritime economy today and for the future," said Asbjørn Skaro, EVP – Deck Machinery, Rolls-Royce. "The technical solutions for SalMar's pilot installation is based on the state-of-the-art technology Norwegian industry has to offer from both fields of aquaculture and offshore oil and gas."
The eight point mooring system to be delivered by Rolls-Royce includes monitoring, fairleads, connectors and subsea load sensing system.
Rolls-Royce has signed a contract with the Chinese Institute of Marine and Offshore Enginering, and the new semi-submersible rig will be constructed at Qingdao Wuchuan Heavy Industry Co. Ltd in China. It is designed by Global Maritime in Norway, and the pilot ocean fish farm is planned to be completed by the second half of 2017.