Boskalis, KOTUG Merge Harbor Towage Operations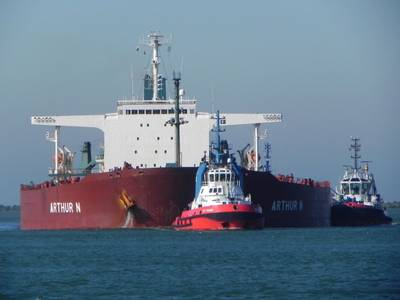 Boskalis, KOTUG agree to merge European harbor towage operations
Royal Boskalis Westminster N.V. and KOTUG International B.V. have signed a Memorandum of Understanding (MoU) to merge the companies' European harbor towage operations. The companies will establish a 50/50 joint venture for this purpose, combining the European harbor towage activities of SMIT, a Boskalis subsidiary, with the European harbor towage activities of KOTUG. This merger is the concluding step in Boskalis' strategy aimed at establishing regional partnerships for its harbor towage activities, as was previously done through
Smit Lamnalco
, Keppel SMIT and most recently SAAM SMIT.
The scope of the joint venture will encompass the harbor towage operations of SMIT in the
Netherlands
and Belgium and the harbor towage operations of KOTUG in Germany, the Netherlands and the United Kingdom. A provider of harbor towage services in northwestern Europe will be formed through this combination, serving 11 ports in four countries with a fleet of more than 60 tugboats. The total combined revenue is estimated at approximately EUR 150 million and the joint venture will not only result in operational synergies but also significantly strengthen the combined market positions.
Boskalis said it expects to free up nearly EUR 100 million in cash from the proposed transaction, primarily due to the refinancing of the activities. The MoU will be implemented subject to customary conditions, such as due diligence and regulatory approval in the countries to which the joint venture pertains, and in consultation with the works councils.