Kelvin Hughes and Zener Marine Expand Operations in Dubai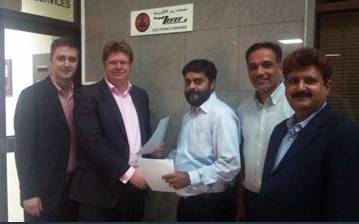 Kelvin Hughes and Zener Marine are proud to announce the signing of a new distribution agreement which will include a full range of paper and digital charts and publications.

Zener is a major equipment distributor and service agent for Kelvin Hughes Radar, ECDIS and VDR in Dubai, this agreement adds a portfolio of chart products including:

• Paper and digital hydrographic charts and publications from Japan to the Baltic and Eastern USA along Panama with a concentration on Middle East coverage.

• Technical Publications from the UKHO, IMO, ITU, Witherbys, Seamanship and more.

• The Weems & Plath range of quality nautical instruments available in Dubai for the first time. (This will include the amazing Endurance range of brass clocks and barometers that do not tarnish.)

Commenting on the new agreement, Mr D.S. Raval, who leads this business venture, said, "With over 20 years experience in the charting business in both India and the UAE, I'm very excited to be able to provide the local market with unique products and services from Kelvin Hughes. We will be offering the full range including outfit management, loose leaf updates, customised log books and international chart NTM's and tracings. In addition we will be supplying the ChartCo electronic data delivery and updating services which is a unique offering for this area. As we move towards ECDIS mandation we will see growing importance of products such as Kelvin Hughes' ECDISplus in which all the components of ECDIS implementation are available in one package to make the adoption process as straightforward as possible. Zener Marine is now able to offer this package to all its local customers."

Mr Martin Taylor, Managing Director of Kelvin Hughes' charts business said, "Dubai is a critical shipping location and the ability to support existing customers and the local shipping companies is vital to Kelvin Hughes' position as market leader. This is even more critical with the fast approaching IMO Mandation of ECDIS in the majority of the SOLAS fleet. Local support for this challenging changeover from paper to digital will be invaluable for all shipping companies involved. Zener Marine has been a very effective equipment distributor for us in this area and we are sure that they will be equally effective as a distributor of our chart products and services."

Zener Marine's General Manager Mr Ivan D'Souza commented, "We are very happy to be expanding the current business relationship between Zener Marine and Kelvin Hughes and we believe the two companies history of innovative products combined with excellent local service will result in the best possible navigation solutions for our customers in the ever expanding UAE and regional shipping markets".
Source: Kelvin Hughes