CMA CGM Operations Proceed in Tianjin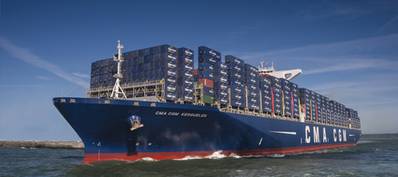 Container shipper CMA CGM said its vessel berthing and departures are back to normal with some expected delays following the August 12 explosions at the Port of Tianjin which killed more than 100 and injured hundreds more.
CMA CGM said all of its crew members and local employees in Tianjin are safe and accounted for.
All of CMA CGM's terminals and off-dock depots in Tianjin are operating, but the shipper expects berth congestion, low productivity and longer port-stays to persist in Tianjin for the coming days. Compared with past few days, more trucks are now running inside the port area.
Local authorities have banned the export and import of
dangerous cargo
containers, but export and import of non-dangerous chemicals are authorized.
All CMA CGM group vessels have been able to call Tianjin Last week except Xin Qin Huang Dao of the shipper's ASAF line. Exports containers that are ready to load will be evacuated this week on CMA CGM Georg Forster, CPO NORFOLK & HS ONORE. For the time being, there will be no call omissions from CMA CGM operated vessels.
CMA CGM said it is presently unable to provide an exhaustive update as it is still without access to all port areas.