Utility Boat Sarina Sold to East Coast Operator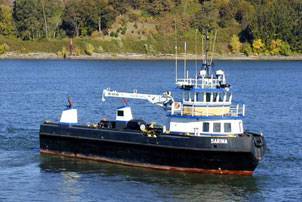 Marcon International, Inc. of Coupeville, Washington reported the purchase by a private East Coast operator of the U.S. flag utility boat Sarina (ex-Tern) from Olympic Tug and Barge, Inc. of Seattle, Wash.
The vessel was originally built as a U.S. Coast Guard WLI class inland buoy tender in 1969 at CG shipyard in Curtis Bay, Baltimore, Md. and rebuilt in 1994 and 1996 to her present configuration. She is currently fitted out as a small general utility and supply vessel and has performed oil spill cleanup duties upon the waters of the
lower Columbia River
and its tributaries. The 80-ft x 24.4-ft x 11.8-ft "Sarina" is powered by a pair of GM 8V71 diesels, producing a total of 500BHP @ 1,800RPM, and Schottel SRP-150Z, 360 degree azimuthing drives with 40-inch four-blade stainless steel props. Each main engine, through a power take-off, drives the hydraulic pumps for the azimuthing drives, anchor winch and deck crane.
Capacities include 4,765 gallons of fuel oil,10,000 gallons fresh water and about 9,000 gallons of cargo lube oil. A pair of 66kW /Perkins 480vAC generators provides electricity for the vessel's onboard services. The vessel is equipped with an eight ton American hydraulic crane with a 50-ft straight boom to aid with the loading and unloading cargo from her large 41' x 18' open aft deck.
She last worked in the Columbia and Willamette Rivers around Portland,Ore., but has been laid up for a few years in fresh water. New Owners are mobilizing the Sarina from the Columbia River to Puget Sound where she will be refurbished at a nearby shipyard and put into local service.