SNAME: Training & Continuing Education Opportunities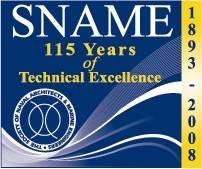 The Society of Naval Architects and Engineers (SNAME) has announced the schedule of pre-meeting training courses and continuing education opportunities in conjunction with the SNAME 2012 Annual Meeting and Expo, October 22-26 at the Rhode Island Convention Center in Providence, Rhode Island.
Early registration discounts of up to $US200 are available until September 15.
PRE-ANNUAL MEETING EXTERNAL TRAINING COURSES -Training Opportunities at the SNAME Annual Meeting and Expo October 22-24, 2012

SNAME is hosting a program of training courses to run in the days immediately prior to the SNAME Annual Meeting at the Rhode Island Convention Center in Providence. This opportunity is offered to companies who regularly provide training courses to Naval Architects, Marine and Ocean Engineers for the Monday and Tuesday prior to the Annual Meeting and Expo.

"General GHS Training" - Creative Systems
Instructor: Lucas Hart
Contact John Christian, Support@ghsport.com
"An Introduction to LNG for Naval Architects and Marine Engineers" – DNV
Instructor: Tony Teo
Contact Cynthia Ervin, Cynthia.Ervin@dnv.com
"Introduction to Dry Docking" - Joe Stiglich
Instructor: Joe Stiglich
Contact Joe Stiglich, jstiglich@aol.com
COURSES FOR CONTINUING EDUCATION CREDIT
Opportunities at the SNAME Annual Meeting and Expo
Wednesday, October 24, 8:00am – 5:00pm
Course 1: Ship Cost Estimating for Engineers
Instructor: Professor Thomas Lamb
This workshop will introduce engineers to the total fabric of ship cost estimating including Factors Influencing Ship Cost and Cost Growth, Cost Estimating & Industrial Analysis, Shipbuilding Cost Drivers, difference between Cost and Price, Learning Curve, Marine Cost Estimating, Parametric Cost Estimates, Detailed Cost Estimating and Cost Risk Analysis.

Course 2: Early Phase Ship Design
Instructors: Sean Walsh & Ben Capuco
This course is an overview of the early stage ship-design process, encompassing feasibility studies and preliminary design to show how an integrated ship design is developed, starting with a statement of the owner's requirements, proceeding through the development and refinement of the requirements by means of ship feasibility studies and, finally, to the development a fully integrated preliminary design that satisfies all requirements. Topics addressed include preliminary performance studies, ship synthesis models; hull, machinery, combat systems, and systems engineering analyses, trade-off studies, design integration; and notes on the design of specific ship types, including high-performance ships. The course is of value to engineers new to the field in ship design or already working in the field but not familiar with the early-stage design process.

Course 3: General Arrangements
Instructor: H. David Kaysen
The SNAME General Arrangements course is a systems engineering approach to ship arrangements and a general summation of current trends in ship design. The course spans activities from planning and preliminary design to detail design and construction. While many types of military, scientific and commercial ship types will be addressed, the course is biased toward naval surface combatant design.

Course 4: An Introduction to Parametric Tools for Rapid Small Craft Design Solutions
Instructor: Jay Jeffries
This course will introduce participants to the approach of using specific software packages in combination to rapidly investigate early design options so as to arrive at a suitable concept, ready for design execution using parametric techniques. Workshop participants are encouraged to bring a PC laptop so that hands-on experience is gained with several software packages.

To register for the SNAME 2012 annual meeting and expo, view the conference schedule, get expo exhibitor information and learn about sponsorship opportunities, visit www.sname.org/2012AnnualMeeting or contact Alana Anderson, Director of Events, 1+201.499.5066 or alana@sname.org. Corporate discounts are available for registering 10 or more company attendees.
Special room rates are available until September 30. For hotel reservations, visit www.sname.org/2012AnnualMeeting/Hotel. For travel discounts, visit www.sname.org/2012AnnualMeeting/Travel.