BWTS Supply Order for Optimarin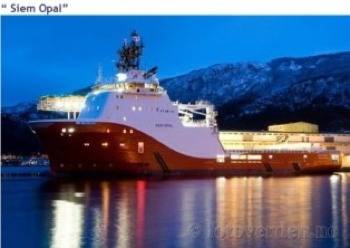 Optimarin to supply three ballast water treatment systems to Siem Offshore vessels.

The first ship to be supplied with Optimarin Ballast Systems (OBS) is the AHTS Siem Opal during drydocking. Its particulars are:

Ship Type: Anchor Handling Vessel

Year Built: 2011

Builder: Kleven Verft Ulsteinvik, Norway 

Length x Breadth: 92 m X 22 m

Dead Weight: 4,250 tons
Draft (max): 7.1m

The Type Approved Optimarin Ballast System (OBS), is based on solid separation (filter) as pre-treatment and high doses of UV irradiation for inactivation of marine organisms, viruses and bacteria, without affecting the normal operation of the ship. Ballast water is UV treated both during ballasting and de-ballasting to ensure the dual UV effect. Ballast water is only filtered during ballasting.

The OBS is one of very few treatment options that does not use or generate chemicals or biocides in its treatment or cleaning processes. It is based on the idea that such systems should be invironmentally sound, simple, flexible and easy to install, and capable of operating on both newbuilds and existing vessels.