Day on Bering No Ordinary Day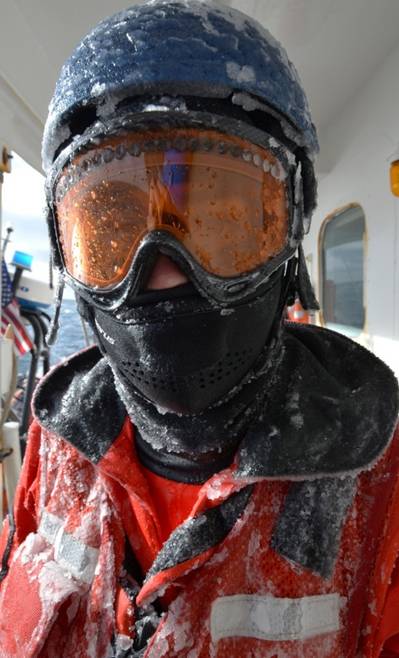 US Coast Guard cutter 'Munro' navigated shifting ice fields to close on Bering Sea fishing fleet, then rendered emergency medical help.
While the weapons and operations departments were wrapping up the day's second boarding, a radio call reached Munro's bridge from fishing vessel Nordic Fury, then only three miles away. A member of their crew had suffered deep lacerations to his hand, which had been partially crushed freeing a net fouled in the vessel's screws.
Because the 95-foot fishing boat could not pull in to nearby Saint Paul Harbor due to icing conditions, it was decided the injured fisherman should be brought aboard Munro for examination, so the cutter's 23-foot rescue boat with coxswain, Petty Officer 3rd Class Michael Valdes, was launched in an ice-cold chop to fetch him.
Chief Petty Officer Joshua Foss in the sick bay, observed that the patient's injury had not affected tendons or ligaments and that suture would be appropriate. Normally, Coast Guard health services technicians are not called to complete clinical tasks on civilian patients, but the district's duty surgeon made an exception, with further medical help days away in Dutch Harbor. Foss applied local anesthesia, approximated the wound and, as excessive swelling indicated the bone may have been fractured, he applied a splint and advised his patient to get imaging done ashore.

The fisherman was very grateful: "Thank God you guys were out there," he said, "There wouldn't have been any other help for me so soon." He was transferred back to Nordic Fury, which steamed south for Dutch Harbor.