Wärtsilä Present Award in Support of Kenya Orphanage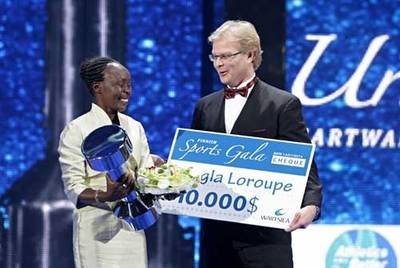 Tegla Loroupe, a three-time world half-marathon champion, a two-time world marathon record holder and the founder of Tegla Loroupe Peace Foundation, has been awarded a 'Philanthropy in Sports Award' at Suomen Urheilugaala, the annual Finnish Sports Gala. In accordance with Tegla Loroupe Peace Foundation's wishes, the donation will be used on supporting an orphanage in Kenya.

"International sports community and professional athletes have enormous influence. The athletes are role models who have a great opportunity to shape opinions and thus move the world in to a better direction," said Mr Atte Palomäki, Executive Vice President of Communications & Branding at Wärtsilä, as he presented the award to Tegla Loroupe, who, after retirement from athletic competition has dedicated her life in building peace and making better circumstances for children in Africa.

The Philanthropy Award was donated by Wärtsilä, and given together with the non-governmental organisation Crisis Management Initiative (CMI).

"Every child has a right to be protected and given a safe and secure environment to grow into a responsible citizen. It is very important to give this opportunity for children that have lost their parents, have been abandoned or come from impoverished families," says Loroupe.

She continued: "At times we get overwhelmed by the needs. It is very hard to prioritize our support. For example a school accommodates about 390 students when total 1000 students would need the place. You can imagine the challenge we have to face in choosing only 1/3 of the eligible students. Donations like these will give children a chance to grow in safe and secure environment where they can learn, interact and share their experiences."

Pictured: Mr Atte Palomäki, Executive Vice President of Communications & Branding handing over the Philanthropy Award to Ms Tegla Loroupe. Photo credit: Pekka Salonen / EMG.