New OSV-inspired Ferry for the Fiji Islands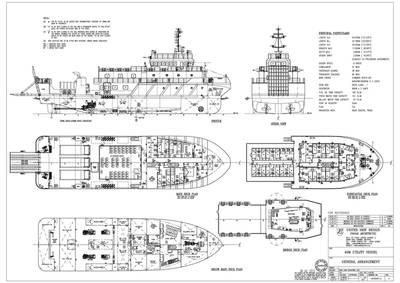 In recent decades there have been great advances in design of crewboats and offshore supply vessels to meet the needs of the petroleum industry. Recently a number of nations have turned to these designs as inspiration for naval craft. Now the Government Shipping Services of the Fiji Islands have turned to a designer and a builder of offshore vessels for a new inter-island ferry.

The M/V Cavigou was designed by United Ship Design of Sibu and built by Kian Juan Dockyard in Miri, also in Sarawak, Malaysia. The vessel's 40- by 11-meter hull design owes much to contemporary offshore supply vessels (OSVs). However extensive design considerations have been included for the boat's role as a multi-purpose utility vessel for public service. A stern ramp allows the loading of three trucks, several cars or other cargo to a 90-square-meter clear deck space. A 45-ton pedestal crane can assist with cargo loading. In the superstructure there are 40 accommodation rooms for the 16-member crew and up to 38 passengers. An additional day space is provided for up to 60 people in the salon.

Pair of Cummins KTA19-M3 diesels each delivering 600 HP at 1,800 RPM to four-blade 1,500-m/m diameter fixed pitch propellers through Reintjes WAF364L gear with 4.482:1 ratios. This power train gives the solidly built vessel an eleven-knot speed. Auxiliaries include, two Cummins 6BT5.9D(M)-powered generators rated 80eKW, 50Hz. The vessel is also fitted with a 3.5 ton bow thruster driven by a Cummins N855M rated for 350 HP at 1,800 RPM. Capacities include 160 cubic meters for fuel and 140 cubic meters of potable water. The vessel will be classed by NK.

Delivery to her owners in Walu Bay, Suva, Fiji Islands is scheduled for this July.