Honda Marine's New BF115 Outboard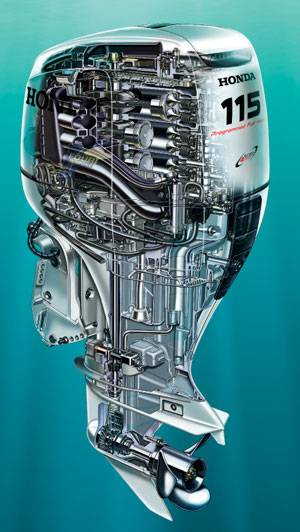 Honda Marine has added the BF115 to its lineup of fuel-injected four-stroke outboard engines. Introduced in 2010, the redesigned BF115 is derived from the inline 4-cylinder 2.4 liter DOHC engine platform used in Honda's Accord automobile. This engine, coupled with other advanced technologies, is able to produce performance with fuel efficiency and reliability and features design cues similar to its recent predecessors, the BF40 and BF50, BF75 and BF90 and 105 Jet. The BF115 also incorporates the wing-form design of the cowling and a performance-oriented gear case.

A host of features & benefits of the new Honda BF115 contribute to the model's fuel efficiency, quiet operation, light weight & powerful acceleration. For example, holeshot and acceleration are improved via the use of Honda Marine's exclusive BLAST system, which advances ignition spark timing to within one degree of the knock limit during "hammer down" acceleration. At that point, the Engine Control Module (ECM) steps in to increase injector timing, creating a more potent air/fuel mixture. In fact, the ECM receives constant input from 18 different sensors to deliver instant starts, smooth operation, strong performance and excellent fuel efficiency. Specifically, the BF115 reduces fuel consumption by 19 percent over the previous model, per Honda R&D internal testing data. The resulting boost in available torque at low rpm contributes to a strong holeshot to get the boat up on plane quickly. The ignition spark timing is appropriately adjusted under slower throttle advancement, resulting in a leaner air/fuel mix and class-leading fuel efficiency.

In addition, the BF115 also features Honda's new high-performance gear case. A longer anti-ventilation plate helps trap water flowing to the propeller to minimize cavitation, while a streamlined front and enlarged bullet reduce drag for enhanced acceleration and fuel efficiency.

A front-splash plate reduces spray from the hull bottom, helping to maintain a dry deck above. Important to most boaters, the ECU (Electronic Control Unit) on the new BF115 outputs signals that are compliant with NEMA 2000 standards. This design enhancement allows engine management information such as engine rpm, fuel consumption, cruising distance and alerts to be displayed on a variety of NMEA 2000-compatible onboard electronic display devices that are increasingly common and popular with customers.