APM Slashes Out-of-Service Days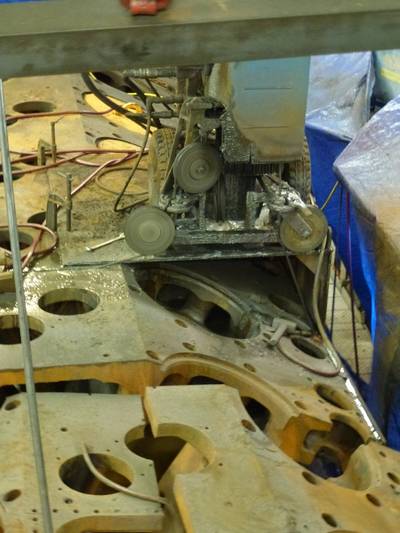 Removing a 132 metric ton engine from an 11 deck luxury cruise liner whilst it's in-service may sound impossible, but that's exactly what marine engineers Atlantic Pacific Marine (APM) did in February. The company teamed up with wire sawing experts Drillcut (UK) Ltd. to cut one of Disney Wonder's Sulzer ZA40S engines into 32 separate sections en-voyage. The sections were then lifted out and off loaded, enabling ultra-fast engine replacement once the liner had dry docked in the Grand Bahama Shipyard. In all, the innovative process saved six dry docked days.

"The job was such a success that we're already dealing with another five enquiries for the same service," said APM's Managing Director, Leroy Bishop. "The time and money savings are obviously very attractive: both in terms of project turnaround and also the negation of dry-docked, out-of-service days. So too are the inherent Health and Safety advantages," he explained. "As there is no hot work involved, there are no fumes or fire risks. Also our methodology means zero disturbance to passengers and crew."

The APM and Drillcut team of seven men boarded the Wonder in Nassau, and completed the project within fourteen days. Diamond wire saws were used to cut the Sulzer ZA40S into 32 sections, including all engine components such as the 400mm diameter hardened steel crankshaft case. Each cut took around six hours.

"As well as in-service engine removal, our wire-cutting method will be of considerable benefit for scrubber fittings," Bishop said. The process will enable APM teams to make fast, clean cuts to exhausts, pre-scrubber insertion. Similarly, evaporator demolition will be much simpler and faster.

Drillcut (UK) Ltd. is head-quartered in Bristol, and is recognized throughout the UK as one as one of the leading specialist contractors working in the Diamond Drilling, Sawing and Demolition industries. "Our wire cutting technology has a proven track record for everything from bridge sections to nuclear power station structures. It's very exciting to be involved with developing it within the marine industry," said Managing Director Phil Goodfield.

Atlantic Pacific Marine is well established and regarded within the marine industry. Since its 2010 set-up, the company has seen turnover soar to over £4million. APM is head-quartered in Cardiff (Wales, UK); has two further sites in Barry (UK) and is opening a forth in Southampton later this year.