Damen, Palfinger Upgrade North Sea Jack-Up Rig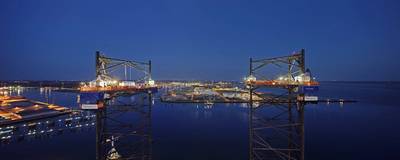 With the support of Palfinger systems JUMP technology, Damen Shiprepair Vlissingen has completed an upgrade of a Keppel Fels 'N' Class drilling rig, one of the largest in the North Sea, in 30 days less than was initially projected by the client.
Rig owner Rowan Companies Plc projected that the work on the Rowan Viking would require 130 days, but due to the application of innovative project planning techniques and highly specialized equipment Dutch shipyard Damen was able to reduce this by nearly 25 percent.
The scope of the project involved the extension of the three legs by 10 meters to 180 meters, a five-yearly special periodic survey, and bringing the rig up to standard for the AoC (acknowledgement of compliance) certification required by the Norwegian authorities. The achievement of such an ambitious goal required the yard to adopt an entirely new approach to this kind of project, firstly a project execution plan that allowed the three aspects of the contract to be undertaken simultaneously. Secondly, the use of the Austrian-based Palfinger systems GmbH unique JUMP (Jack-Up Maintenance Platform) system and a special crane were also critical elements.
By working with Palfinger systems, Damen saidi it was able to perform the job with a time saving. Conventionally, scaffolding towers are erected, requiring a large amount of effort, workforce, time and money. To minimize this effort and increase the scope of achievable and safe work, globally active Palfinger systems developed the access concept of JUMP some time ago. The system is a very flexible unit to provide access to jack up platform legs in any height. Key to this is the entirely autonomic self-impelled operating principle, which does not require extensive preparation like scaffolding. Thereby the JUMP provides a safe and efficient working environment and enough capacity for workmen and material as well as sufficient power supply for power tools. The JUMP is completed by one or more IP Supply Platforms that allowed the engineers to move up and down the legs at heights of up to 160 meters for fitting and welding, ensuring fast and safe ascent and descent to and from the JUMP and furthermore the IP functioned as a rescue platform. The JUMP system can also be upgraded by a local housing to ensure sheltered working conditions and highest efficiency with no downtimes caused by weather and further reducing the impact on the environment compared to conventional approaches.