Panama Canal Upgrades Tugboat Fleet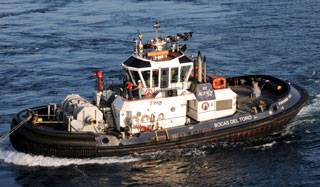 The Panama Canal Authority (ACP) announced that it has introduced five new tugboats to its fleet, increasing the availability of these vessels used to assist ships transiting the waterway. The new units, purchased from Cheoy Lee Shipyards, Ltd., have an output capacity of 4,800 horse power and a bollard pull of more than 60 metric tons.

Additionally, the Canal has made some operational changes that increase efficiency and streamline operations. The ACP moved the management of its shipyard to the Canal's Maritime Operations Division, led by ACP Executive Vice President of Operations Manuel Benítez. The Canal has also instituted a more regular and systemized process of tug maintenance, allowing proper availability of the fleet at any given period.

An additional 13 tugs, also purchased from Cheoy Lee Shipyards, Ltd, are scheduled to begin arriving in September 2010. Overall, the ACP plans to have a total fleet of 46 tugs by 2014. The additional units will replace old tugboats with more than 35 years of service and augment the existing fleet.