Panthers Picked for Gulf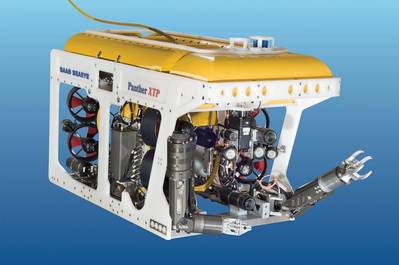 Zamil Mermaid Offshore Services has chosen three Saab Seaeye Panther XT Plus ROVs for a seven-year inspection and repair contract for Saudi Aramco.

The Panther XT is known for its reputation as a small but high powered, light work ROV. Zamil Mermaid's operations manager, Neil Howie, said the Panther XT Plus is a versatile vehicle for all types of jobs. He added that it has the advantage of a small footprint and an ability to work easily in two-knot shallow water currents, ideal for the Gulf.

"It is a high-end modern vehicle that is easy to maintain and well suited for the scope of work undertaken for Saudi Aramco," Howie said. He explained that all three vehicles will need to carry out multiple work tasks including light construction, inspection and surveying.

Each of the three 1,000-meter rated Panthers come with their own launch and recovery and tether management systems, along with a split control cabin and workshop – one of which is supplied by Zamil Mermaid.

According to the manufacturer, the Panther XT Plus is a popular vehicle in the Gulf for a number of reasons:

It can handle 90% of the tasks normally undertaken by a hydraulic work-class ROV bringing major savings to operations in the Gulf.

Being a smaller system operators can use a smaller ship, if necessary – an advantage in the shallow waters of the region.

An electric vehicle is better suited for the warm waters in the Gulf where hydraulic ROVs have a problem keeping oil cool.

Faced with strong currents, the Panther XT Plus' unique combination of 10 powerful thrusters and twin Schilling manipulators means it can hold station in strong currents of up to four knots whilst working at complex or robust tasks.

In fact, the Panther XT Plus has 50% more power than any other ROV of its type and can swim 30% faster, Seaeye said.

And for an operator, its number of thrusters offers a high level of redundancy to keep the vehicle working before bringing it home.