Container Coatings: Strategic Partnership Formed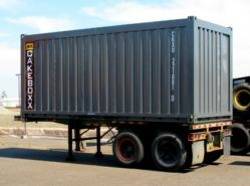 CakeBoxx Technologies, developer of doorless intermodal shipping containers, forms strategic partnership with Valspar Corp.
Valspar will supply a full line of premium paints and coatings, including Valspar Aquaguard, for the new CakeBoxx line of patented, doorless intermodal cargo shipping containers. CakeBoxx say that its containers provide secure, cost-effective and damage-resistant container options for the global shipping and transportation market.
"CakeBoxx containers are specifically designed to respond to the evolving market pressures of decreasing margins and increasing security demands," said Daine Eisold, CEO of CakeBoxx Technologies. "While CakeBoxx inherently addresses these cost and security aspects, this agreement with Valspar will enable us to address the long term serviceability of our products and the growing environmental concerns of our customers by providing an alternative to solvent-based paints. Both Valspar and CakeBoxx are providers of premium products and have the same focus on innovation in our respective industries. It couldn't be a better fit for us to work together to provide forward-looking solutions for our customers throughout the global supply chain."

CakeBoxx Technologies is a US-based Service Disabled Veteran Owned Small Business (SDVOSB) that provides a line of patented intermodal containers to the global shipping market. Unlike most traditional intermodal containers that have cargo loading doors, CakeBoxx containers have two integrated components – a deck and a lid – that are specifically engineered for increased cargo security, safety and more efficient handling.