Burger Boat Contract for Steel Passenger Vessel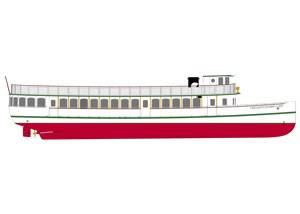 Burger Boat Company has received a contract for the construction of Chicago's Leading Lady, a 98-ft steel passenger vessel, for Chicago's First Lady Cruises, Chicago, Ill. Chicago's Leading Lady is styled after the 1920s luxury cruising yachts such as the former Presidential yacht Sequoia. Chicago's First Lady Cruises will use the vessel for upscale private parties, wedding rehearsal dinners and corporate events, as well as, serve as an official vessel for the Chicago Architecture Foundation River Cruise.

The vessel was designed by Seacraft Design LLC, Sturgeon Bay, Wis. and will be built at Burger Boat Company's Manitowoc, Wis. shipyard located on the western shore of Lake Michigan between Milwaukee and Green Bay.

Chicago's Leading Lady will be powered by (2) Caterpillar C12 main engines w/ZF gearboxes and will have two Caterpillar C4.4 generators. This vessel is designed to carry a maximum of 350 passengers and will be certified USCG Subchapter K. The interior spaces are climate controlled via a central chiller with remote air handler units and are decorated in mahogany toned paneling and brass accents. Comfortable upholstered chairs at round tables are positioned by large arched windows, providing all passengers with a never-ending view of Chicago's world famous skyline.