Incat Crowther Launches 59 ft Cat Passenger Ferry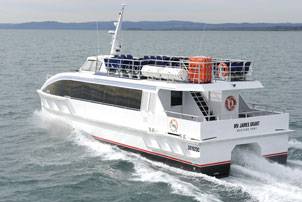 Incat Crowther launched a 59 ft Catamaran Passenger Ferry for Victorian operator Inter Island Ferries. MV James Grant is the fourth vessel Incat Crowther has designed for the operator. This vessel is the first passenger ferry to feature Incat Crowther's latest hull form, implemented on recent successful work boats. Performance is excellent with a top speed of 27 knots at full load with only 339kW.

The vessel will carry 100 passengers, with boarding via side gates aft. Across the aft bulwark is a large luggage rack. The aft deck also features 2 WC compartments and stairs to the upper deck. The main passenger cabin features 64 seats. Windows in the forward bulkhead give passengers a view over the foredeck, whilst a large television screen is fitted on centerline behind the half height wheel house.

MV James Grant proves Incat Crowther's ability to consistently satisfy clients' requirements with continual evolution and improvement to its product offering.