Update: Chinese Icebreaker Stuck After Rescue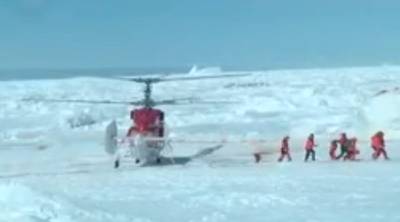 According to a Reuters report, the Chinese icebreaker that helped rescue 52 passengers from a Russian ship stranded in Antarctic ice found itself stuck in ice on Friday, January 3, 2014.
According to the Reuters report, Snow Dragon had ferried the passengers from the stranded Russian ship to an Australian icebreaker late on Thursday. It now had concerns about its own ability to move through heavy ice, the Australian Maritime Safety Authority (AMSA) said.
The Australian icebreaker carrying the rescued passengers, the Aurora Australis, will remain on standby in open water in the area "as a precautionary measure", the rescue agency said.
The Aurora Australis had meant to sail towards an Antarctic base to complete a resupply before carrying the rescued passengers back to Australia.
A helicopter from the Snow Dragon carried the 52 scientists and tourists in small groups from the ice-bound Akademik Shokalskiy to the Australian supply ship late on Thursday.
As reported yesterday:
Rescuers in Antarctica have safely transferred all 52 passengers stranded on the ice-bound research vessel 'Akademik Shokalskiy' to the icebreaker 'Aurora Australis', informs the Australian Maritime Safety Authority's (AMSA). Details as follows:

Five flights by a helicopter based on the nearby Chinese icebreaker Xue Long were needed to take the passengers to an ice floe adjacent to the Aurora Australis over a distance of about 14 nautical miles and from their they were ferried to the Australian icebreaker by boat.

The Aurora Australis will head for the Casey Antarctic base once in open water to complete its supply mission, and is not expected to arrive back in Australia until mid-January.

Meanwhile all 22 crew members of the Akademik Shokalskiy remain with the vessel.

The Shokalskiy was trapped on Christmas Eve 2013 by thick sheets of ice driven by strong winds, about 1,500 nautical miles south of Hobart, Tasmania, having been used by the Australasian Antarctic Expedition to follow the route explorer Douglas Mawson travelled a century ago.