Penguin's Pelican Marine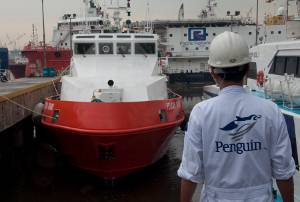 A logical outgrowth of an established boat builder is a marine operating company. With a well established aluminum building yard in Singapore and a steel fabrication yard in Batam Indonesia, Penguin Marine has spun off not one, but two marine operating firms. Penguin Ship Management Services operates high-speed ferries throughout Southeast Asia including on the busy Singapore-Batam route.
Pelican Offshore Services, established in 1997, operates a fleet of Fast Supply Intervention Vessels (FSIV) as well as anchor handling Tug/Supply Vessels in support of the offshore oil and gas industry of Southeast Asia. Their fleet of FSIVs carry rig crews and light freight cargos. Working with their sister firm Penguin International, they have developed a fleet of their own designed Flex-36 high-speed aluminum vessels.
The most recent addition to the Pelican fleet is the 36 by 7.6-meter ABS-classed M/V Pelican Grand. With a crew of eight and passenger capacity of 70 rig-workers this design has proven an ideal size to meet industry requirements. Combined with ample open aft deck area and tankage for water and fuel the vessel continues in the manner of her sisters in this well proven design.
The power package is also consistent with earlier deliveries. Three Cummins KTA38-M2 diesels each delivering 1350 HP at 1900 RPM provide main propulsion power to five-blade propellers with a one-meter diameter. A bow thruster is built in for added maneuverability. A pair of Cummins 6BT5.9 engines, each delivering 122 HP at 1500 RPM to 91 kW generators, meet the Pelican Grand's electrical needs.