Waterjet Retrofit: Direct Performance Comparison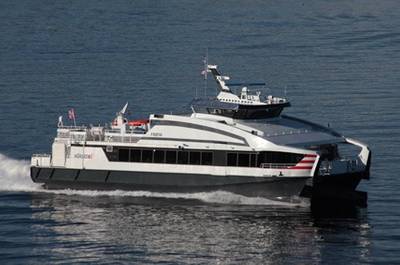 Waterjets from Marine Jet Power (MJP) were recently used to solve some significant propulsion issues.
Two recent refits of waterjets were unique in that a direct comparison between waterjet brands could be obtained, while everything else remained unchanged.
In the first case, the operator of a 10-year-old vessel decided to change to MJP DRB jets due to significant service and corrosion issues on the existing waterjets. The vessels were originally equipped with axial flow jets. MJP DRB mixed flow jets with intakes completely made of GRP were installed in one of the existing hulls with the rest of the equipment, including the engine, remaining unchanged.

Sea trials following the refit showed stunning results: ship speed increased from 38 to 43 knots only thanks to the change of waterjets and the overall efficiency was increased from 57% to 67%.
In a second case, according to MJP, a shipyard retrofitted MJP DRB mixed flow jets and subsequently under the supervision of DNV it was found that they consumed 8,5% less power at the same operating speed.
Company information: In 2012 MJP Waterjets acquired Ultra Dynamics. The new group is named Marine Jet Power and has offices in Sweden, UK, US, Italy and Singapore as well as sales and service representatives in well over 30 countries. The company group product range comprises MJP CSU, DRB and Ultrajet series.