Persian Gulf Tanker Fire: US Navy Saves Crew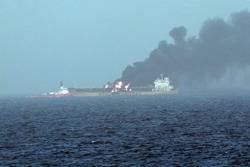 Navy, USCG rescue mariners after tanker blaze off Iran coast.
The destroyer USS John Paul Jones has rescued 24 Filipino mariners who had been stranded after an explosion disabled their tanker in the Persian Gulf. The crew of the tanker Stolt Valor, which was carrying 13,000 metric tons of a volatile, flammable cargo, issued a distress call about 2 a.m. local time. The tanker was 48 nautical miles southeast of Farsi Island, Iran. When John Paul Jones arrived, the vessel's master told the Navy that one crew member had died in the explosion.
Food, water and blankets were given to the mariners, who did not require medical attention when recovered from two lifeboats; later they were transferred to Coast Guard patrol boat Baranof to be taken to Manama, Bahrain. "Coming to the aid of fellow mariners in trouble and conducting search and rescues at sea are critical skills that the Navy trains us to get right," said Cmdr. Jon Duffy, John Paul Jones' commanding officer. "I couldn't be more proud of how our crews reacted, from the initial distress call to when every survivor was safe on deck."