New Bunker Vessel for Maxum Petroleum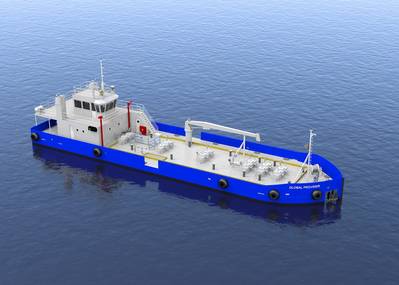 Maxum Petroleum's newest bunker vessel Global Provider is currently under construction at Jesse Co. in Tacoma, Wash. and is expected to enter service in January 2017.
"The launch of this vessel demonstrates our continued commitment to enhance our service capabilities for our customers throughout the West Coast and Pacific Northwest," said
Scott Prince
, CEO of Maxum Petroleum.
"The Global Provider is the result of years of collaboration between our Maxum Team, our valued customers,
Elliott Bay Design Group
(EBDG) and Jesse Engineering to develop a tank-ship with the versatility and capacity to enhance our commitment to quality, customer service and our on-going dedication to providing fuel, lubricants and related services to meet the mission critical needs of our valued clients," said Dan Kovacich, VP of Maxum Petroleum.
EBDG's scope for the project included concept and contract design, regulatory support and detail design. The EBDG Team is working closely with Jesse Engineering, the Washington based fabricator selected to undertake the build for this project. EBDG Project Manager, James Jennings is "proud of the results of our work with Maxum and Jesse Engineering designing such a capable vessel to support the Puget Sound Maritime Community."
The Global Provider is a 150,000-gallon self-propelled bunker ship with a cargo handling system that allows it to move segregated products, lube and
fuel oil without
cross-contamination. It features six pairs of cargo tanks, amounting to 3,700 Bbls of MGO and 24,000usg lube oil capacity. The vessel measures 126'-2" in length, with a 32' beam, 10' draft, and 13' depth to main deck, yet remains under 100 GT. It will be powered by a pair of Cummins QSK-19M, 660 HP Tier III engines, and Twin Disk model MGX-5202 reduction gears drive two fixed pitch propellers, Northern Lights Gensets will supply electrical and hydraulic power. Steering will be supplied by Autonav Deflector Marine Rudders providing exceptional maneuverability.