Phoenix Launches LED Floodlight for Pilot, Fire and Patrol Boats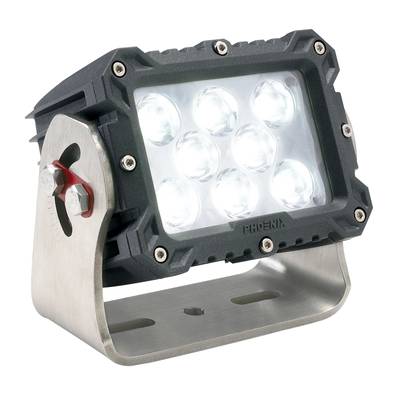 US-based manufacturer Phoenix Lighting has introduced the Sturdilite Master Series - a low-voltage LED floodlight for installation on pilot, fire and patrol boats.
The Master Series is IP69K rated and features a super heavy-duty, stainless steel harp to withstand significant and continuous shock and vibration. The durable yet compact fixture has been tested for frequency disturbances and was determined to not affect radio transmissions.
The Master Series comes in two versions – 24W and 48W - that produces up to 2,500 and 5,000 lumens, respectively. The Master Series uses premium Osram LEDs and has a 5000K color temperature.
The Master Series has three application-specific beam patterns: spot, flood and elliptical, to optimize light output and distribution for all vessels and equipment. An additional key feature includes aiming indicators on the harp to ensure easy installation and replication of the beam angles.
The premium line of LED fixtures includes a conformal coated circuit board, which ensures the fixture will withstand the rigors of the marine environment. The Master Series has a high-temperature polycarbonate lens and tempered glass lens options that feature an anti-stick coating to avoid dust and dirt buildup. A breather valve allows vapor and pressure to escape, thus optimizing performance and lifetime of the fixture.
The versatile Master Series can be used with any direct current power source. The fixture can perform in a broad temperature range of -40C to +65C, and has a 50,000 hour rated life and a three-year warranty.