Carbon Fibre Megayacht Launched from Picchiotti Shipyard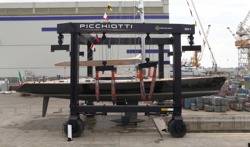 Perini Navi Group launch a carbon fibre sloop designed by Nauta Yacht Design & built at the Picchiotti shipyard in La Spezia, Italy
The Perini Navi Group, designers and constructors of large sailing and motor yachts, announce that the 31,65m sloop Xnoi (pronounced per noi - "for us") has been launched. This sailing yacht has a hull, superstructure, mast and boom and all are in carbon fibre. The launching ceremony was held recently at the Picchiotti shipyard in La Spezia.

The construction of this new yacht – designed by Nauta Yacht Design's Mario Pedol and Massimo Gino – meets the changing needs of today's yachting market and expands the range of Perini Navi Group products. This project demonstrates the Perini Navi Group's ability to successfully undertake construction projects in carbon fibre. 

The Perini Navi Group's core business is the construction of sailing yachts of 45 to 70m, a Racing Line and a Fast Cruising Line, special projects, and motor yachts from the Picchiotti Vitruvius® series.
Xnoi will be available for charter this summer for up to 10 guests in 4 staterooms in the Mediterranean Sea.