Kulluk Due 'Piggy-back' Ride to Asian Shipyard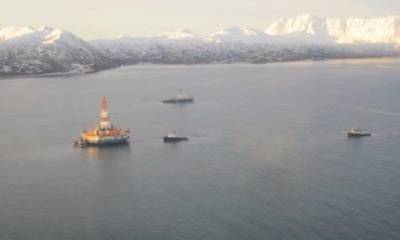 Owners Shell confirm that 'Kulluk' safe to tow from Kiluda Bay to Dutch Harbor & await arrival of heavy-lift semi submersible vessel for the 'dry tow'.
The Unified Command has been stood down. "Agency representatives will return to their normal roles and responsibilities," said Capt. Paul Mehler III, the Coast Guard Federal On-Scene Coordinator. "The Coast Guard will continue to monitor the activities involved in prepping the Kulluk for movement and I will lift the Captain of the Port order once all the requirements have been met."

After weeks of thorough assessment, analysis and on board activity, Shell confirmed that the Kulluk is safe to tow out of Kiliuda Bay. This decision is based on independent review by Det Norske Veritas (DNV) validating that the Kulluk's structural integrity and stability, post grounding, is sound for towing. Shell has received DNV Class Certification and Flag State approval for the Kulluk. As part of the preparations for the tow, an independent warranty surveyor will approve the towing vessels and equipment arrangements and witness the connection of the tugs to the Kulluk.
The vessel will be towed to Dutch Harbor where a purpose-built dock for the Kulluk's conical shape is situated. This will allow for heightened safety as the Kulluk is prepared for a dry-tow transit to Asia, where it will undergo repairs. The Kulluk will be towed by three ocean-going tugs to Dutch Harbor and accompanied by the response vessel Nanuq. The transit time is approximately 10 days. 

The completion of the damage assessment revealed that the inner hull of the Kulluk was not breached and that all fuel tanks remain intact. The outer hull did receive damage as expected with a vessel being aground during adverse weather. In addition, the Kulluk encountered water damage to its superstructure which resulted in damage to technical equipment and a breach of windows and hatches. Over the past few weeks, all damaged windows and hatches on the Kulluk's main deck have been secured, and where necessary, temporary steel structures have been put in place to ensure that the vessel is weather tight and prepared for the tow.